In his Major League debut and match-up with the division rival Braves, Mets right-hander
Zack Wheeler
was impressive but inconsistent. He lasted six shutout innings, yielding four hits and five walks. He threw just 55 of his 102 pitches for strikes.
The First Inning
Wheeler seemed to have a few butterflies heading into his debut, missing the strike zone with six of his first seven pitches. He started the game off by walking Andrelton Simmons, then fell behind Jason Heyward 2-0 before fighting back for his first career strikeout. Wheeler threw first pitch balls to every batter in the first and was constantly battling from behind in the count. 21 of his 23 first inning pitches were fastballs. Below is a strike zone plot of his first inning. Notice that just eight pitches found the zone and many missed by a significant amount.
The Fastball
Wheeler's fastball is a legit, overpowering, bat missing pitch. He threw it mainly 95-97, but lost a little velocity as the game went on. He can blow hitters away by throwing it up in the zone. He doesn't command the pitch very well and missed badly at times.
The image below shows the movement of Wheeler's pitches and one likely cause of his fastball command issues. You'll notice in the upper left corner there is a wide distribution of fastball movement ranging from -9 to -2 inches. Having such a varying degree of horizontal movement makes the pitch harder to locate though also more difficult to hit. The pitch shows the most tailing movement when thrown on the right side of the plate and can create havoc for right-handed hitters. He broke two of Justin Upton's bats on inside fastballs and will likely break a lot more the rest of the season.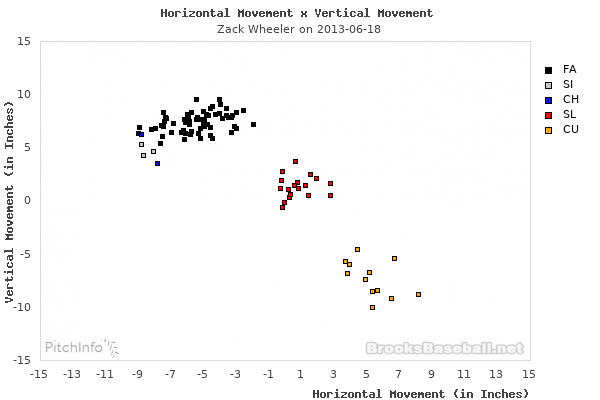 The Curve
Wheeler has another strikeout pitch with his curveball. He throws it 77-78 mph and it can have a very sharp downward break, however Wheeler was inconsistent with it. He failed to get on top of it at times, leaving it up and sometimes way out of the zone. He only induced one swing with the curve, getting Freddie Freeman to fly out on the first pitch to lead off the 6th.
The Slider
Wheeler's slider came in a 88-89, with more vertical movement than horizontal. He didn't throw it often for a strike and was often not close enough to the zone to induce a swing. He only got one whiff on his 16 sliders (6.7%) as opposed to his fastball (16.9%).
The Change/The Cutter
Wheeler's threw his change-up a similar speed as his slider and cutter (88-89 mph) and at times it was difficult to tell the three pitches apart. The movement plot above shows you how the three pitches all blend together. The change-up seemed deliberate at times, with Wheeler's arm speed slowing with the pitch.
Overall, the results were good from Wheeler as he left with zeroes on the scoreboard, but he has a lot to work on to become an ace starting pitcher. The biggest issue was the sheer number of wasted pitches. Nearly every at bat featured a pitch that missed so badly that there was no hope of inducing a swing. Throwing 102 pitches over six shutout innings, Wheeler was very inefficient. His fastball is good enough that he could probably throw it every pitch and have Major League success. The only thing missing from making it a true elite pitch is command. It will be interesting to watch Wheeler's continued development to see whether he can harness his stuff and become an elite starting pitcher.
Thanks to BrooksBaseball.net for the Pitch/Fx images
For feedback and comments, email the author at mkoenig@80grade.com